Lots more performance at modest price – that's what RSS can bring to many boats using our stock sails.
John Lizardi is very happy he matched his Chesapeake Light Craft (CLC) NorthEaster Dory  with the RSS 89 sq ft sail.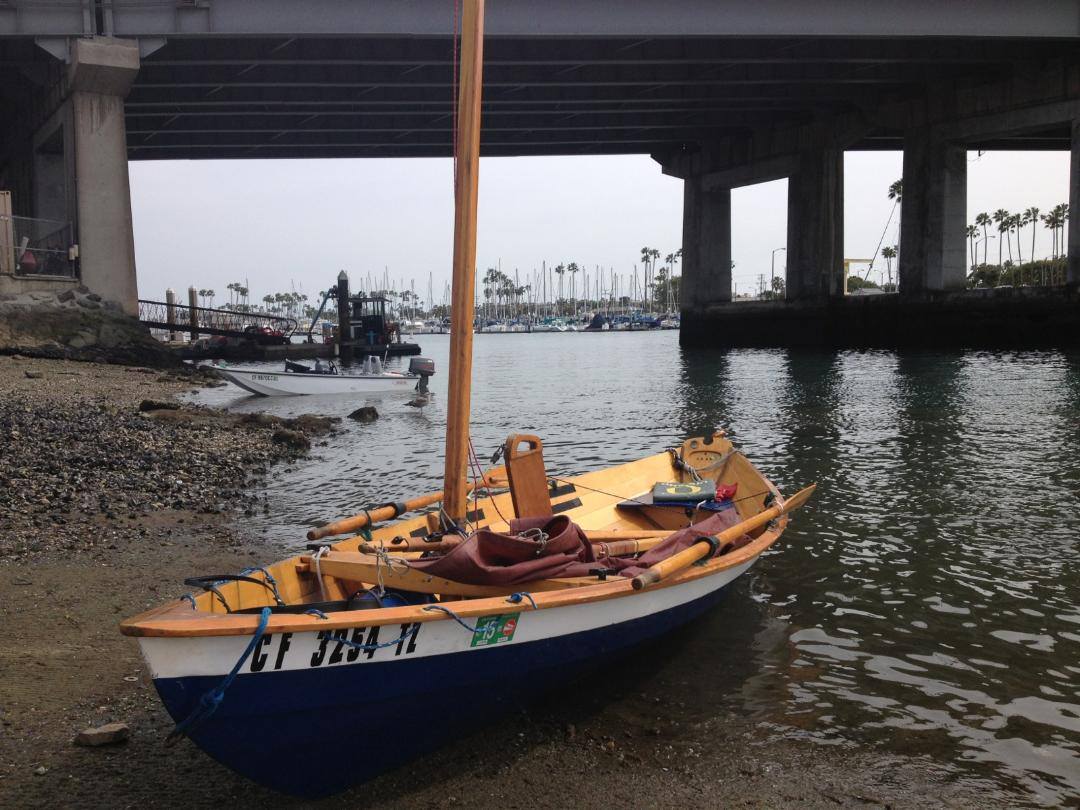 John and I discussed if the 89sq ft Oz sail would be best or the 105sq ft GIS balance lug sail.
Dories can have limited stability, but the NorthEaster has a very rounded bilge and reasonable beam so gains a great deal of stability as she heels.  The conservative route was to go for the 89sq ft balance lug.  This is a sizeable jump in sail area, but will reef to smaller than the reefed original sail.  Dories have quite low wetted surface, so while 89sq ft might not look like a lot on a 17ft boat, it should promote light weather speed substantially.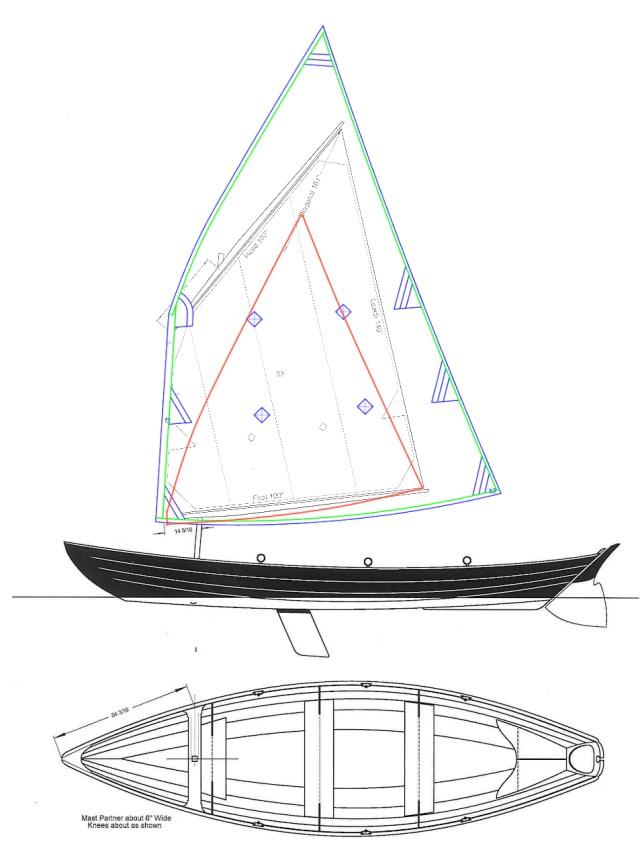 The NorthEaster Dory with the 89sq ft lugsail outline in green/blue.  Notice that there are two deep reefs.  The fully reefed sail is in red, smaller than the original sail when it is reefed.  This means the boat will be suitable for both stronger and lighter winds.  Original sail is in grey.
So … report from John Lizardi
Finally was able to sail my northeaster dory with the 89 sq foot sail….I must say i am really impressed with the performance of the sail and the quality construction and material of the sail itself.

John's NorthEaster Dory designed by CLC

I was very anxious that the sail would overpower the boat and make it unstable and corky but the opposite was the case…I was was sailing comfortably in 10 to 15 mph winds and never considered having to reef one time though i know if winds picked up to 20 mph i would reef accordingly.

Also i was able to come about very easily. The sail because its centroid is further back than my previous sail lines up perfectly with the centerboard and its slanted angle making pivoting a breeze.

The greatest surprise was to find out that i could sail close hauled with a much greater degree of pointing into the wind…At Newport beach in the marina i did not have to tack once in a area that i normally have to tack several times upwind with my old sail. Of coarse i mainly bought the sail because i wanted to increase my speed and it didn't disappoint me. I knew i would be sailing fast in higher winds but even when the winds were light i was moving considerably faster than my previous sail of 62 sq ft.

I was sailing along side kids that had lasers and i was sailing on par with them…I could see the look of surprise in some of their faces when i was sailing with them because my boat was comparable to their speed. Anyways if you want this write up as a promotional advertisement you have my permission..

John Lizardi from California.
One of the misconceptions about small boats is that bigger sails require stronger spars.  The reality is that the load is put on the mast and other spars by the stability of the boat.  If a mast is strong enough to lever the boat over to 90 degrees then it is strong enough for most sailing.  This lug sail does require a longer mast, I would increase the cross section of the mast by 6mm or use the same diameters and make it a box section.
The yard and boom need to be 200mm longer than the edge of the sail they attach to
Please see our resources on setting up lug sails for best performance.