Raid Extreme at Lauwersmeer. 20 boats showed up, 40 people in total. Slightly different idea for a RAID of having several checkpoints with participants able to choose any order to visit them all. Sailplanes call this a "cat's cradle" event.
Two canoes and the .
The organiser Koos put our 50sq ft sail on his Artemis sailing canoe.
We developed the entire rig using standard aluminium tubes for our Viola canoe design – photos below.
Koos is a crazy moth sailor, so he's fitted a hiking plank to his Artemis canoe.
We provided the spar spec to Koos and can also supply it to anyone wanting to use the 50sq ft sail. The current mast and sail is for monohull dinghies up to about 4ft wide.
Koos is talking about a bigger sail – bigger or smaller we can do them. This is a custom sail to be ordered direct from us.
Price (Sept 2016 subject to variation. Includes shipping) USD$504.13 or €458.76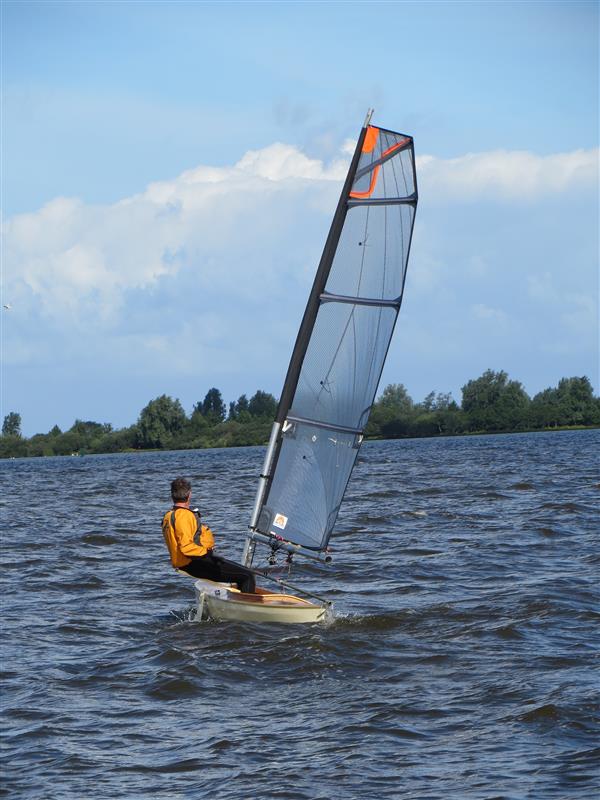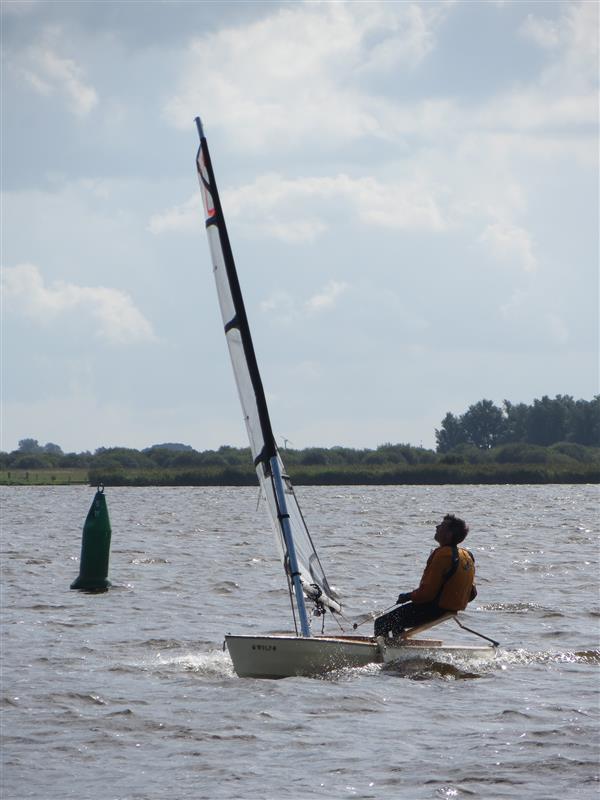 The Prototype VIOLA canoe from Storer Boat Plans
This was the boat's second outing since the builder Joost Engelen finished building it. Viola, Joost's wife and others who have sailed it so far has found it to be a "non tricky canoe", which is an unusual thing.
Plans are coming along in a couple of months.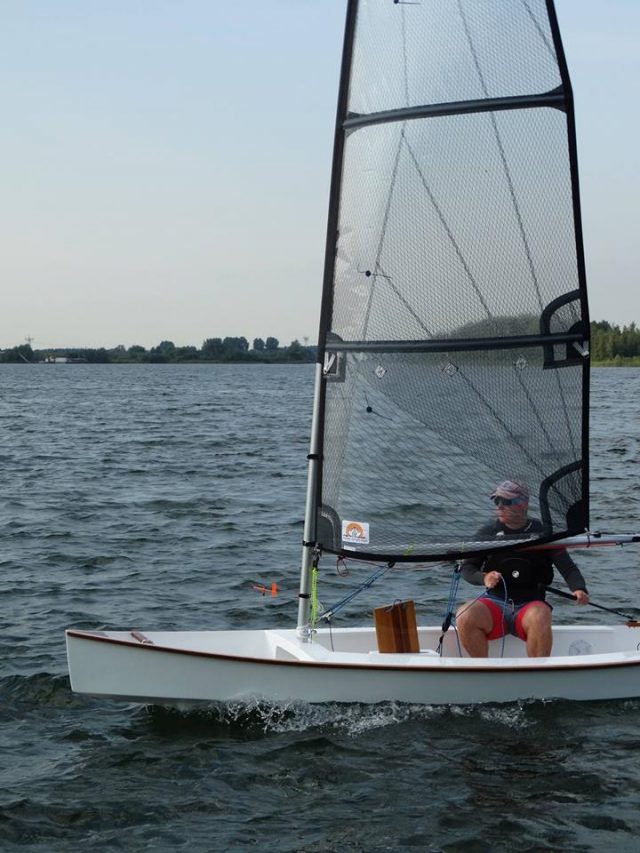 It is a very "dinghy style" hull – with flattish sections up the middle of the hull to provide lift right through the speed range rather than the old style hulls that have planing sections at the back only. The old style hulls have to lift their bows a substantial amount to get the planing areas to the right angle to reach high speeds which means a very slow climb onto the plane. Boats like the Australian NS14, the UK National 12, the UK Cherub and others get through that zone with no fuss and little change in trim.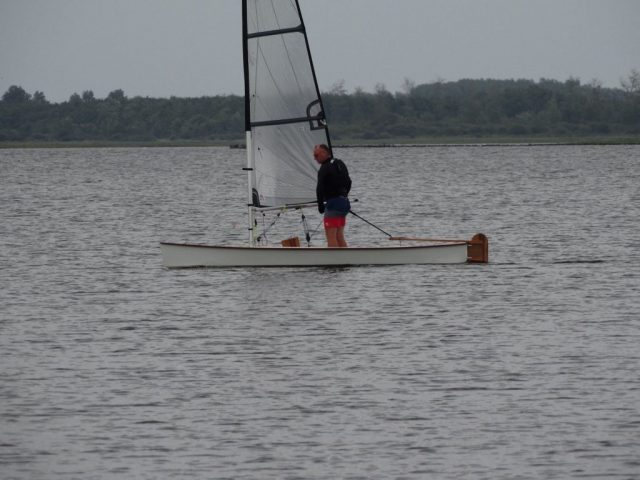 The rig and sail of Viola is identical with that on the Artemis above. We can provide both the alloy tubing specs and the building method for a two piece mast that matches the sail on both these canoes for those buying the sail.
These are a custom sail and should be ordered direct from us. Price (including shipping, Sept 2016 subject to variation.) USD$504.13 or €458.76
Joost and Viola Engelens' Goat Island Skiff
This is a well travelled Goat Island Skiff, having competed in the Caledonia RAID in Scotland in its debut year. It came in second in class and came third overall in all the rowing legs.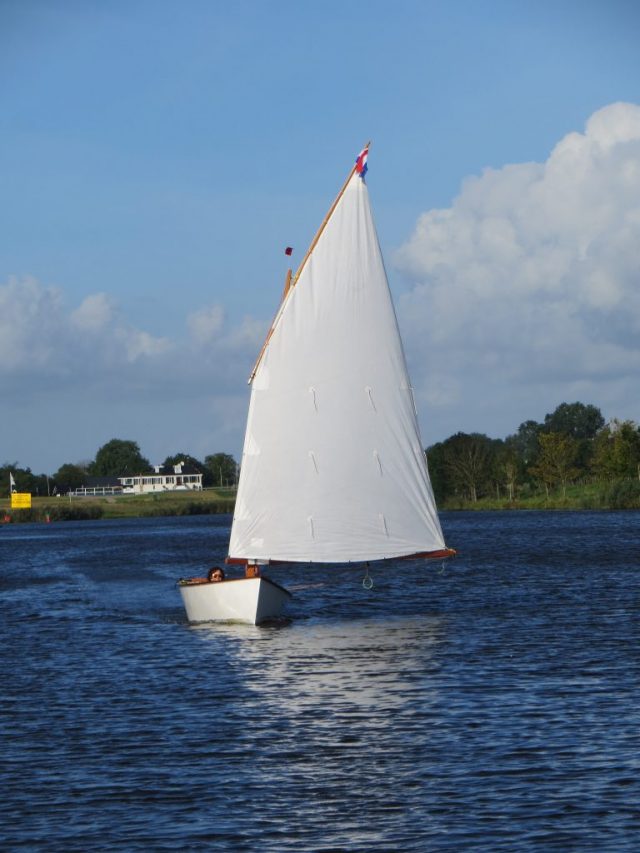 The above photo of the Engelens' Goat shows the nice balance in stitching tension and construction. Running in light wind will quickly show creases or wrinkles.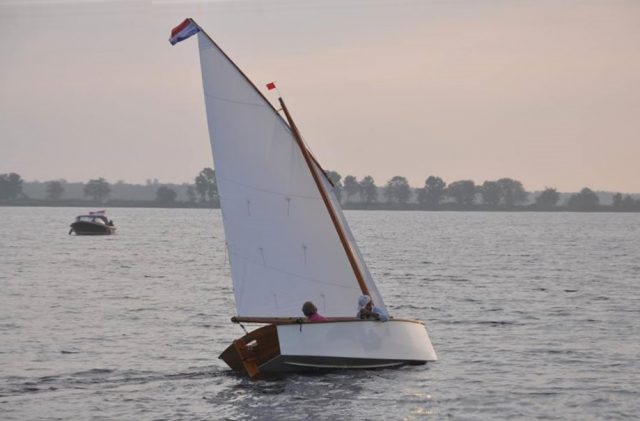 Joost recently had a serious back injury, so this is his second weekend in a row on the water. They decided to take it easy and enjoy the social aspects of the event.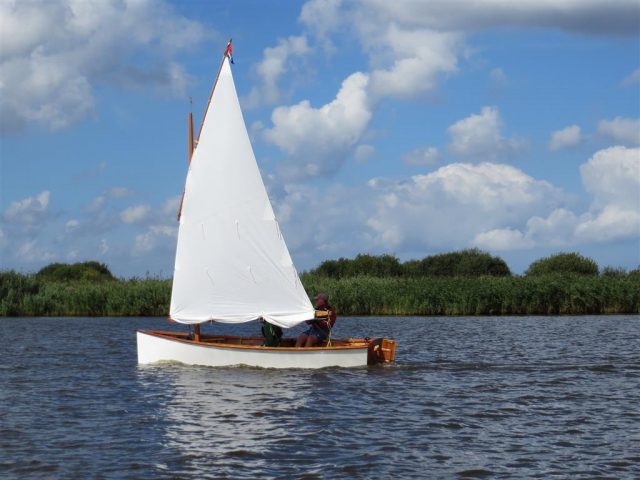 Here you can see GISwerk, their Goat Island Skiff reefed with its Really Simple Sails Lugsail. These sails are available ex stock from Duckworks USA and ship internationally.