Vladimir in Russia contacted us earlier in the year and we just received photos from him showing the Annabelle Skiff being "lawn sailed.
The sail is the more expensive Cream option. White is significantly cheaper.
Hello Michael!
Reporting the project of Annabelle by Dave Gentry. Today I have completed it. See yourself. I like the sail of yours very much. It looks great. The maiden sail is to come. I hope this season before the Winter comes.
The Annabelle is quite radical, with tough fabric stretched over frames and stringers. Designer Dave Gentry is renewing quite an old tradition, but some of the structural hurdles to overcome for  the loads of sailing vessels are quite interesting.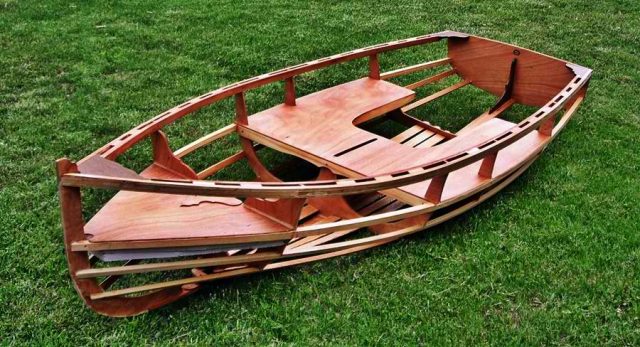 Clearly Vladimir was very happy with his sail. He is hoping to report on sailing before winter rolls in.
Other Dave Gentry Boat Boat sails we have made are
Gentry Annabelle white
Gentry Annabelle tan
Gentry Chatauqua Sailing Canoe Main Mizzen White
Contact us in top menu for other Dave Gentry Boat sails.